Jonathan Yerasimides MD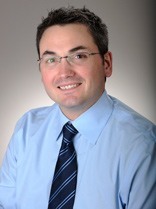 Jonathan Yerasimides MD
Orthopaedic Surgeon
Dr. Yerasimides is an orthopaedic surgeon who specializes in surgery of the hip and pelvis. He attended the combined six year program at the University of Missouri–Kansas City where he earned his B.A. in Biology and later an M.D from the same institution. In 2005, Dr. Yerasimides completed his residency in orthopaedic surgery at the University of Louisville. His interest in hip and pelvis surgery motivated him to look for a subspecialty fellowship in this area. This interest led him to the foremost authority on surgery of the hip and pelvis in the United States, Dr. Joel Matta. Dr. Yerasimides interviewed with Dr. Matta in Los Angeles for his single fellowship position and was accepted for the 2005-2006 fellowship year.
He exclusively operates on the hip and pelvis and has performed over 4,500 anterior approach hip replacements since August of 2006. Dr. Yerasimides has quickly become an authority on anterior approach hip replacement and performs more hip replacements yearly than any other single surgeon in the United States having totaled just under 1,700 in the last 2 years alone. He is considered a top authority on revision anterior approach hip replacement as well, pioneering new techniques and furthering education in this area. He travels monthly across the United States to lecture and teach the procedure to other orthopaedic surgeons. He travels internationally as well to lecture and demonstrate the procedure for surgeons interested in the technique. Surgeons seeking training in the procedure travel to Louisville to watch him operate and learn the technique first hand. He hosts domestic and international surgeons weekly at Norton Brownsboro Hospital. He is also part of the training program at the University of Louisville and has been training residents and fellows since 2007.
Dr. Yerasimides is married and has three children. He and his wife are both originally from Richmond, Missouri, a small town on the outskirts of Kansas City. They are proud to call Louisville home.
A game changer for hip pain
Jonathan Yerasimides M.D.
Norton Medical Plaza II
Orthopaedic and Hand Center 9880
Angies Way
Suite 250
Louisville, KY 40241

(502) 394-6341

Click here to view Dr. Yerasimides complete CV
You will need the Adobe Reader to view and print the above documents.

Top hip replacement surgeon in Louisville in the August 2011 edition of